You've been there, awestruck by the amazing TikTok or YouTube videos on how to do appliance repair on your own. But while some of the tips and hacks work, doing it yourself can pose some serious harm, to your health, your wallet, your time, or all of the above. 
Here are some scenarios where you can try a safe pretreatment plan as a temporary solution as you wait for the professionals. 

1. You don't have the right tools or materials.
A toolbox should include screwdrivers, Allen sets, pliers, rubber insulated gloves, screws, and the like. Even if you have them, the appliance in question may need a set of spare parts unique to its design, model, company, and even its accessories that you do not have or cannot purchase immediately. Think microwave turntables or a specific branded clutch for a washing machine. 
What you can do: Contact the company or store where you bought the appliance and ask for spare parts.

2. You're dealing with wires. 
As a whole, fixing electrical components such as chewed or tangled wiring is tricky to attempt fixing on your own. Even trained electricians are not safe from accidents. From 2012 to 2016 alone, more than 70% of the fatalities were electrocuted from repairing, constructing, and cleaning (Campbell, 2018). 
What you can do: First, turn off the main power source (the main fuse). Then you should wrap or cover exposed areas with electrical tape as a bandaid. The next best step is to ring up an electrician. Don't forget to turn off the main power source for safety. Keep the kids and pets away.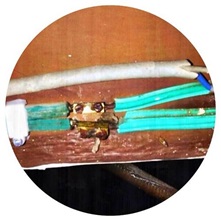 Exposed wires–please don't attempt to work on your own!
Your air conditioning unit, TV, tablet, cellphone, laptop, or microwave oven is/are broken. 
The only thing you can manipulate on air conditioning units, particularly the window type, are the filters on the outer surface. Flat screen TVs nowadays do not have any spares on vital parts at all. Once they break, they need to be disposed of. Microwave ovens are also challenging–you don't want to break anything that may leak harmful waves out. 
What you can do: Turn off the appliance, get the warranty, and call an authorized repairman.

Your pipes and shower heater is leaking/won't turn on

. 
Pipe pumps and shower water heaters are off limits. Broken pipe pumps risk leaking water into your carpet or waxed wooden floors, potentially costing you hundreds of dollars. With the shower heater, troubleshooting one can be a shock, literally. 
What you can do: close the main water valve and unplug the heater. Call the plumber.

5. You want to save. 
This is probably THE reason why you shouldn't do repairs by yourself. Any repair work or maintenance won't be shouldered or reimbursed if done DIY style. Insurance won't also pay for damages on the property either. Of course, you can't just call any type of electrician. Everything has to be legit.  
What you can do: Check out the appliance company's repair team or a local repair company.
It's nice to be able to do stuff for yourself but it's not always safe or cost effective if you don't know what you're working on. Don't take the risk on you and your family's life and health. Hire an expert. It will save you time, effort, and money.