Placing wallpapers in your bathroom is one of the most challenging decisions you'll ever make in redecorating your space, as you need to consider various factors that will ensure a pleasant and beautiful result…but big thanks to removable wallpapers!
Even if it is trickier than other spots in your house, it is still fun to do. You'll get excited to know what you could get as a finished product after installing decorative accessories to your walls instead of having just a straightforward and standard bathroom.
It's time to step up in revamping your bathroom, wherein you spend time relaxing and refreshing. It is also an endless possibility, especially if you are working with removable wallpaper from branded wallpaper producers.
You could experience a spa-like ambiance or whatever that will give you serene comfortability while taking your time during the day.
Thanks to these discount wallpaper that offers options to upgrade your bathroom walls look without commitment as you could change it anytime you want—plus providing a unique and trendy style because of its amazing designs. No wonder it is a favorite tool of professional interior designers.
Get some fearless ideas for your bathroom using removable wallpaper below:
Patterned design wallcovering
Create the sweet and light design of a bathroom with a combination of modern and elegant vibes. You could feel the sense of serenity because of its light and clean color theme with a bit of twist because of the pattern used that simply blends well with the marble and gold hardware of your sink.
Warm butterfly walls for your bathroom
This Schumacher birds and butterflies wallpaper set an elegant look for this Bathroom. It resembles the fresh and comfy aura of nature. You can see how it perfectly suits a white painted wall as an accent behind a contemporary mirror and top-notched vanity and interior of this bathroom.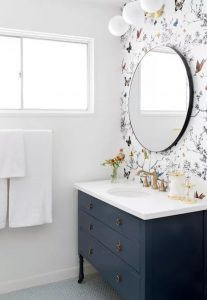 Painter's corner
Your powder room will never be the same with this splatter-inspired print of removable wallpaper. It is a balanced art that mixes a classic Mediterranean look of the tiles and blends well with other accessories in the room.
Your kind of plaid removable wallpaper
A classic yet still trendy style of plaid wallpaper is also a statement that you could use for your Bathroom. It can be manly but still create a transformation for your space that will make you feel more neat and clean. It also enhances the beauty of the woodworks in your room and creates a mid rustic look.
The subtle black and white bathroom walls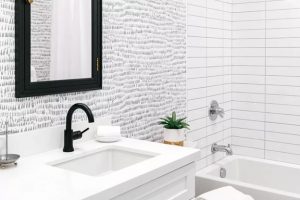 The Schumacher queen of Spain wallpaper's classical and whimsical effect will turn your bathroom into a beautiful haven in an instant. Its black and white color scheme is perfect for a little greenery on the side and black and silver hardware of your space. It offers a bright and minimalist finish if used as an accent wall, it doesn't have to be all over the walls.
Animal Print Wallpaper  for your Bathroom
Neutral spaces like our bathroom can also take the printed animal wallpaper even if they are too bold for walls. It could be used as an accent wall so that it will not overwhelm the entire space's appearance. It helps to add character and mood to your bathroom and is visually appealing.
Get that Polka for your Bathroom
A clever idea that will make your bathroom so chic and modern. Polka dot removable wallpaper is a nice and cute option that perfectly suits your girly side. This is a perfect design for your daughter and wife that wants to have a beautiful and instagrammable spot in your house.
Elegance in Grasscloth Wallpaper
Nothing compares with the elegance that grasscloth wallpaper can offer even for your bathroom. It perfectly blends with the geometrical floor and gold hardware of the room. It creates a simple and minimalistic finish that you will love to hang out with. Check Phillip Jeffries grasscloth for more inspiration.